We are looking for motivated and ambitious teammates.
Currently hiring for these positions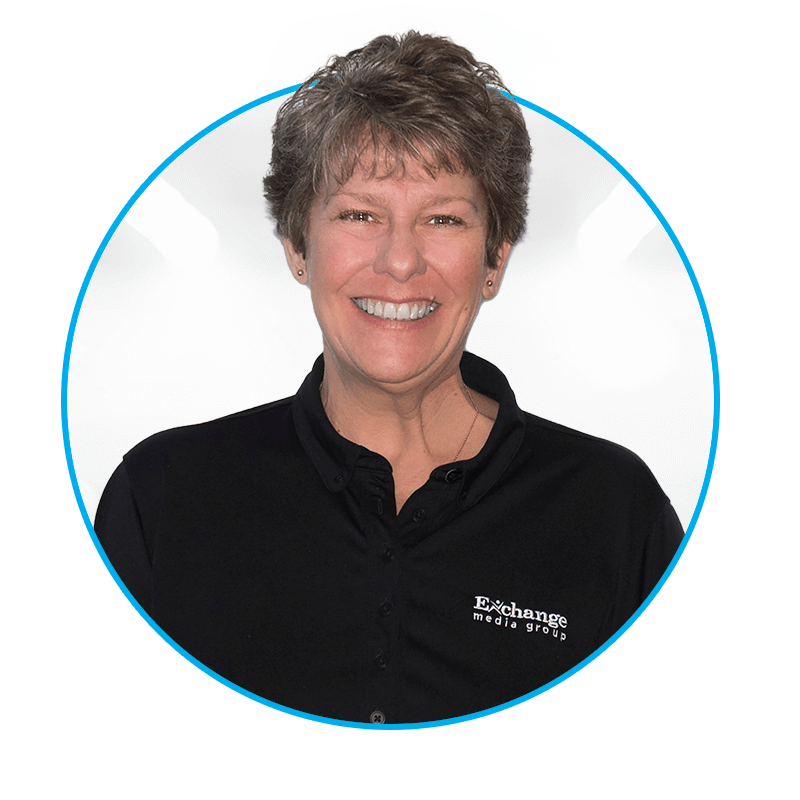 "
– Sandra Thomas
I was apprehensive before applying for the position. I only had experience working in gift sales. I knew nothing about advertising. EMG put me through paid training and let me watch other sales reps. That was [over] 10 years ago! When a business tells me "working with you is a blessing," I can't help but smile every time.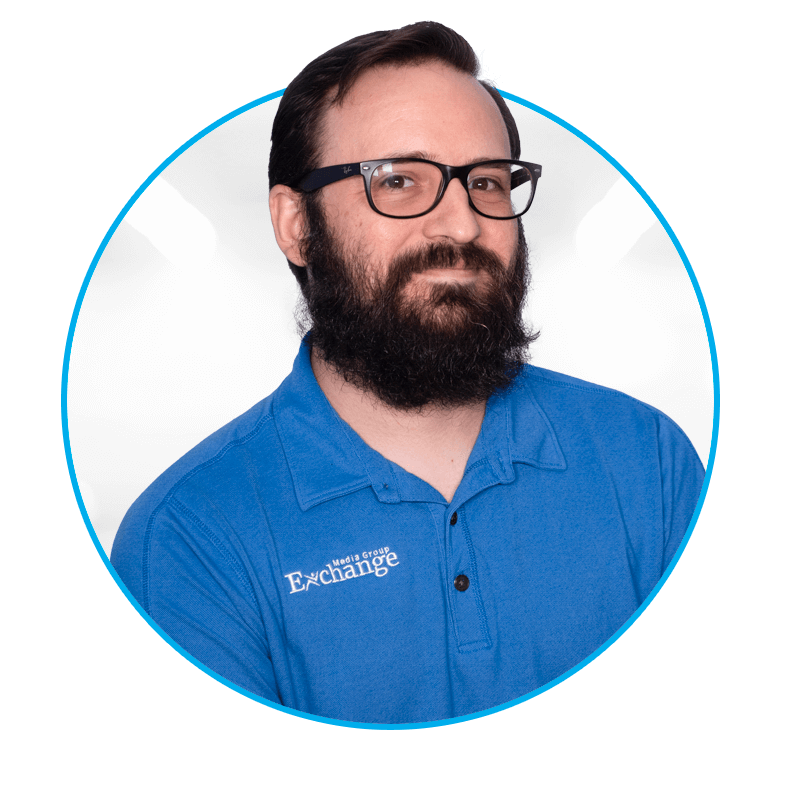 "
– Clinton George
Coming from many years in the corporate world, it felt like everything was about business only–but there is more to it than that. Working at Exchange Media Group was a breath of fresh air. It showed me that business is really about people, the customers, and making their life better. We have a team of talented people who are customer-obsessed and work toward excellence every day.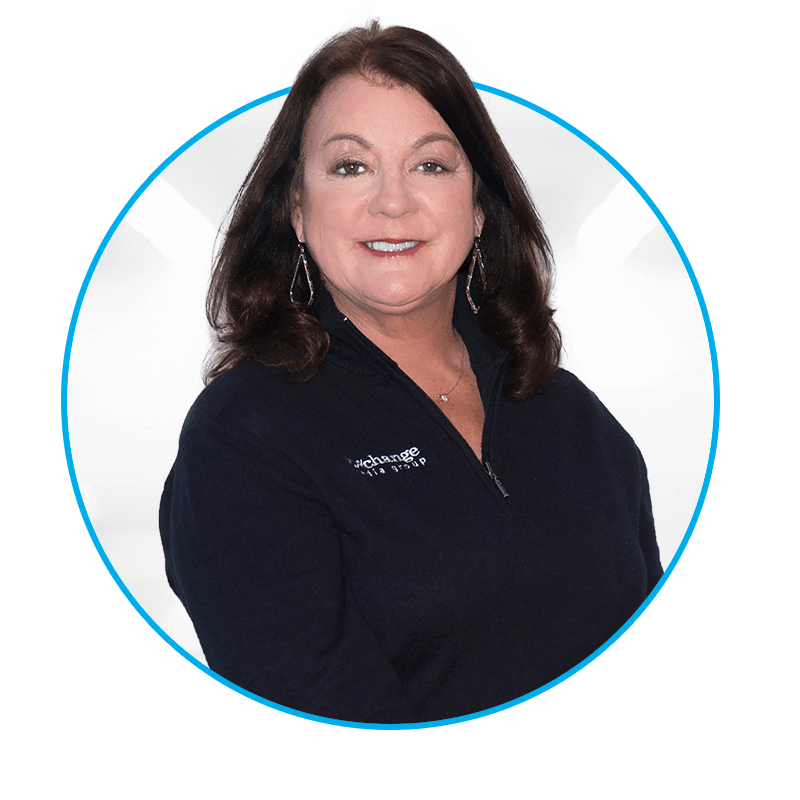 "
– Sissy Smith
When I first started working with Exchange Media Group, the extensive training was the most impressive part. It allows everyone on the team, no matter where we came from, to be the best we can be. As an employee, I love that our customers become our family. We're local, so we can really make a connection with them.
The Company offers full-time employees both company supplemented and voluntary benefits.  You are eligible for benefits after your first 90 days and upon your 1 year anniversary. A snapshot of current benefits is outlined below. 
Holiday and Vacation Time:  Exchange Media Group observes 7 paid holidays (New Year's Day, Memorial Day, July 4th, Labor Day, Thanksgiving Day, the Day after Thanksgiving Day and Christmas Day).  Exchange Media Group gives employees a paid day off for their Birthday! Employees become eligible for holiday pay and birthday time off after their first 90 days of employment.
PTO: Years of Service – 0-23 Months receive 15 Days per year; 24-59 Months receive 20 Days per year; 60+ Months receive 25 days per year
Insurance: Full-time employees may participate in a medical insurance plan offered through the company.  The Company pays 60% of the monthly premium for the employee. Each employee pays the first $2,250 of their deductible; the company pays the next $1000; the employee pays the remainder of the $5,500 deductible.
401(k) Retirement Plan:  You may participate in a 401(k) plan.  After your first year of employment, the company will match 100% of your contribution of 3% of your income and 50% of your contribution of 4% and 5% of your income.
Savings Plan – You can have money deducted from your pay each week that goes into a savings plan that earns 2.6% interest per annum. You can put as little as $5 per week, keep the total of your savings balance to a maximum of $5,000, take out money a minimum of every six weeks.
We do not like to change benefits or compensation structure but Exchange Media Group does reserve the right to alter all items.
Exchange Media Group is an equal opportunity employer and does not discriminate on the basis of any legally protected status or characteristic. Minority/Female/Sexual Orientation/Gender Identity/Disability/Veteran.

Business Development (Traditional Media)
We are looking for people to join our sales team that have the following characteristics; outgoing, smart, socially active, high energy, active curiosity and articulate. We believe in creating a culture for you to grow in your job. Your core objective is to mentor prospective and current clients about marketing. You'll meet with businesses every day to understand their marketing pain points and what they want to achieve. Once you understand their business strategy, you and our team will develop a marketing plan to help them grow. We expect to be the market leader not only through our sales volume but also shown by the results we deliver.
Available Cities
Lewisburg, TN
Shelbyville, TN
Tullahoma, TN

Business Development (Digital Media)
We are looking for people to join our sales team that have the following characteristics; outgoing, smart, socially active, high energy, active curiosity and articulate. We believe in creating a culture for you to grow in your job. Your core objective is to mentor prospective and current clients about marketing. You'll meet with businesses every day to understand their marketing pain points and what they want to achieve. Once you understand their business strategy, you and our team will develop a marketing plan to help them grow. We expect to be the market leader not only through our sales volume but also shown by the results we deliver.
Available Cities
Murfreesboro, TN
Huntsville, AL

Digital Account Executive
Your core objective as a Digital Account Executive is to provide exceptional customer service to our prospects and clients via phone, email and virtual meetings. You will do this by selling the most appropriate product to meet the clients' business needs, while keeping accurate records of conversations through the appropriate pipeline stages in our CRM.
Responsibilities
Maintain product expertise through continued education of our digital products and overall marketing industry news.
Encourage customers to buy services and products by using a prepared script to reference important parts of what the company offers.
Go off-script when necessary to build a relationship with customers or answer any questions they have not addressed in the script.
Mentor prospective and current customers by answering questions and addressing concerns about purchased products.
Update CRM with new information every time a customer calls.
Complete forms and record logs to create accurate, detailed files for each customer, providing insight into the target audience and what they want from the company.
Follow organization standards to guarantee customers receive exceptional service.
Enter data to process sales and upsell when appropriate in CRM.
Assist management in training and developing customer service representatives.
Keep track of customer conversations in CRM.
Acquire new customers through cold-calling for the advancement of new niches.

Digital Media Buyer is responsible for research, management and successful implementation of digital products for our clients. The role requires you to connect digital marketing to all other aspects of our clients' businesses. You must continually learn digital products and understand their benefits and uses. You'll answer key questions such as how brands are communicated and experienced through digital interactions, and how digital interactions fit into broader customer experiences. You must combine in-depth knowledge of client business objectives, online strategies, and their competitive landscape. You are responsible for day-to-day research operations and job execution. You serve as support to the Account Management team. You are their technical teammate. Your focus should always be to provide concise and clear feedback to questions from clients and teammates. You must help create a fast-paced environment and be comfortable in making decisions.
Responsibilities
Develop digital strategies
Research and project reach of clients' digital strategies based on clients' budgets
E.g. Reach, Impressions, CTR, Cost, etc.
Execute projects on time and on budget
Develop an understanding of online target audience and mindset modes
Customer service and software support expert for our classified ad software
Foster timeline development and metrics to monitor progress, ensuring deadlines are met
Develop strong, trusting relationships between us and vendors
Manage client expectations, bringing issues/concerns to clients' attention before they become problems, offering potential solutions and advising of potential delivery delays
Account manager for assigned clients. These will be outside our weekly print footprint.
Provide reporting metrics and analysis to your direct clients
Proactively track and analyze assigned clients' marketing and media plans
Provide digital solutions including digital advertising, site optimization, promotional ideas, mobile, social media networks, content creation etc.
Support the sales team from a help desk perspective
Skills/Requirements
Problem-solving
Facebook Certification
Google Adwords Certification
Google Analytics Certification
Search Console
Ability to clearly write detailed briefs for projects
Superior communication skills, both internal and client-facing
Strong relationship management, organizational and project management skills
Ability to work effectively with a variety of internal teams; graphics, front office, account managers and business development
Ability to identify opportunities for growth and incremental opportunities with clients
Strong interest in technology and digital marketing


We are looking for a talented writer to create various types of content for different platforms. This role requires a high level of creativity, attention to detail, and project management skills. You will plan, produce, and analyze the written content you and our team create. You will help build our editorial calendar and written guidelines, as well as determine sources for content both internally and externally. You will be responsible for compiling marketing proposals for clients.
You will manage email campaigns to our customers and create written content for clients' emails. The days of blasts and spamming are over. Instead, you will provide incremental value and nudge leads towards a sale in a way that feels more organic. You need to know or be able to discover the right types of content to send to the correct people at the right time, both for lead nurturing and to boost the sharing and forwarding of our content-driven emails.
You will be responsible for identifying and executing opportunities to improve our company's and client's search rankings. Your responsibilities will extend to creating SEO plans for our clients as well as implementing the strategies.
Your responsibilities will also include being our social media content manager. You will grow our followers, engage and retain them, and help convert them into leads, customers, and active fans and promoters of our company. You must have command of best practices and trends in social media marketing, enjoy being creative, and understand how to both build and convert a digital audience. You may also be asked to create a network of freelancers and go-to influencers in our industry.
Responsibilities:
Create 1-2 free resources each month to drive leads, subscribers, awareness, and/or other important metrics (examples include ebooks, whitepapers, infographics, guides, etc.).
Create a weekly marketing newsletter for our clients.
Grow our email subscriber base by providing them regular, helpful content that's in-tune with their needs.
Collaborate with designers, sales, external influencers, and industry experts to produce relevant content that meets the needs of both key stakeholders and our audience.
Convince others that your creative ideas are worth investing time and effort in.
Build our editorial calendar and written guidelines.
Determine sources for content creation, both internally and externally.
Serve as an exemplary writer, consistent with our company's tone and mission. You should write clean, concise, and well-polished copy.
Edit content produced by your teammates, including conceptualizing the projects upfront and copy-editing prior to publishing.
Stay up-to-date with the latest industry trends and customer challenges in order to build a more effective editorial calendar.
Grow and manage the company's social media profiles and presence, including Facebook, Twitter, LinkedIn, and potentially additional channels (Snapchat, Instagram, etc.).
Create shareable content appropriate for specific networks to spread our brand, content, and links.
Listen and engage in relevant social discussion about our company, competitors, and/or industry, both from existing customers and leads and from brand new audiences that don't yet know us.
Drive consistent, relevant traffic and leads from our social network presence.
Manage both on-site and off-site SEO for our company.
Manage our organic search engine performance and goal-setting based on site impressions, clickthrough rates, traffic, and conversions.
Stay up-to-date with the latest trends and changes with SEO and major search engines.
Manage and build various email lists and campaigns, calls-to-action, and content used in the email campaigns.
Segment lists based on behaviors like past email engagement and website interactions (content downloads, site page visits, etc.).
Measure results and optimize the nurture tracks for these segments to convert leads to customers.
Work to minimize list decay and unsubscribes while increasing the productivity of our email sends.
Develop documentation and road maps for processes, A/B tests, and promotions that succeed through email.
Requirements:
BA/BS degree or equivalent working experience.
A dual-minded approach: You're highly creative and an excellent writer but can also be process-driven, think scale, and rely on data to make decisions.
Excellent attention to detail both for copy editing and consistency in style and tone across our content.
Active and well-rounded personal presence on social media, with a command of each network and their best practices.
Excellent written and oral communication skills.
Team player that wants constructive criticism 
Bonus experience and skills include Adobe Creative Suite, demand generation marketing, inbound marketing, and blogging.

Our graphic artists work on a variety of products every week. Those products have a direct impact on the success of our clients' marketing strategies. You will work on everything from ad designs to leading an entire layout of a niche publication. You must possess the ability to be creative and drive to deliver effective designs that work. You will be working in a fast pace environment that values team collaboration and input. You will work with our sales team members on what their clients need and will consult directly with clients on specific products. The ability to follow directions and focus on the small creative details are critical parts of you being successful in this position. You will work on the following types of products: ads (print and digital), email campaigns, website graphic design, brochures, business cards, and niche publications. You need prior experience with Adobe InDesign, Photoshop, and Illustrator. Your starting pay will commensurate with your abilities and history in our field. There are part and full-time opportunities available.