Your Google Business Profile is free and can give your local business a major boost. You may think that entering business information that's already on your website isn't a good use of your time. Here's why it is more than worth your time and effort.
No doubt you have seen these profiles when doing local searches. Here is an example of the top part of a Google Business Profile: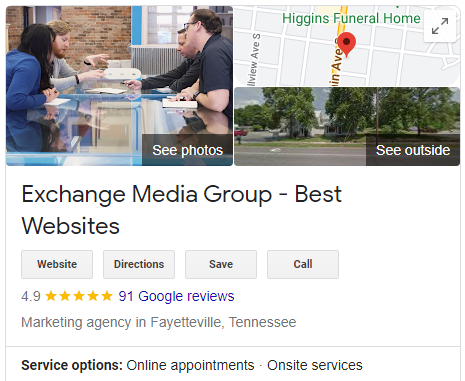 The entire profile may take up a significant portion of the right-hand column of the search page, depending on how detailed it is. The effects of an accurate, complete profile can be significant, both in terms of increased business and in terms of SEO.
Why You Shouldn't Ignore Google Business Profiles
The main reason not to neglect to create a Google Business Profile is that the competition is using them. Why should your competitors get that prime SERP real estate when your business is better?
Completing and verifying your Google Business Profile puts your business on the map — in Google Maps, that is. Someone may be looking at Google Maps for something else, see the map pin for your business, and mentally store that information for future reference.
If your competitor has a pin on the map and you don't, they're getting more exposure. Completing your profile tells the world that you are right there, ready to do business.
How Google Chooses Which Profiles to Display
When you create a Google Business Profile, you throw your hat in the ring with other similar businesses in your area. Google chooses which profile to display based on three factors:
Relevance – how relevant it is to the search terms
Distance – how close it is to the person searching
Prominence – how many links, reviews, star ratings, and SEO keywords the profile has
You can't control what people search on, or where they are located, but you can certainly control the factors that boost your profile's prominence. Your profile isn't a "set it and forget it" asset, but one that must be monitored and maintained.
The better you maintain your profile, ensuring information is accurate, adding reviews, adding photos, and so on, the more prominence it will gain. You "pay" in time and effort, but the rewards can be significant.
How to Create Your Google Business Profile
Begin by going to the Google Business Profile page. There, you can read up on profiles, or go straight to building yours by clicking "Manage Now."
Google will step you through the process of creating a profile. It will also ask that you verify your profile. There are three ways of verifying.
Verify by postcard – available to all businesses, and slower since it uses postal mail
Verify by phone
Verify by email
Not all businesses qualify to verify by phone or email. If you are eligible, you will see it as an option.
Verifying by post takes about five days because you have to receive a postcard and enter the information contained on it. Verifying is an essential step, however, because it allows you to officially "own" the profile and do far more with it.
Tips for Making the Most of This Powerful Resource
The first thing to do to ensure your Google Business Profile delivers is to ensure that the information on it is accurate and that it matches the information on your business website. This is a good opportunity to check that your website information is correct, complete, and up to date as well.
Completing all profile elements and verifying your business is another major step toward getting the most from your profile. Here are some additional tips.
Add Photos and Videos
Include real photos and videos of your business (not stock photos). You won't have control over what order the profile presents pictures and videos. Your best strategy is to provide a mix that showcases your products, services, and business location.
Put Keywords in Your Profile
Use relevant keywords in your profile. If you don't have a keyword research tool, you can use the Google Keyword Planner to help you generate them. Don't "stuff" keywords in. Use them so they flow naturally within descriptions.
Encourage Reviews and Answer Questions
Getting more reviews accomplishes two things. It almost always brings your total rating up, and it increases the chances of your profile being featured on search pages. If you're not sure how to ask for reviews, here are some guidelines.
Add Posts to Your Profile
Once you have verified your profile, you can add posts to it. These are great for announcements like sales, local events that you sponsor, and new products you've added. Be sure to keep them timely so web users won't see outdated information.
Use Google's Free Marketing Kit
Google offers a free marketing kit for businesses with Google Business Profiles. It includes things like printable posters, stickers, and social media posts you can use to encourage people to view your profile and review your business.
If You Only Do One Thing with Your Profile
If you create and verify your Google Business Profile, you don't have to add photos, announce sales, or otherwise use it as a marketing tool. But the one thing you must do to ensure your profile is a positive asset to your business is make sure the information on it is accurate.
Should you move locations, change your hours, or get a new phone number, update this on both your website and your profile. Google checks to see if the information is consistent, and if it is not, they will favor an accurate profile over yours.
The Value of Your Time
Creating and maintaining a Google Business Profile is a bit more involved than just filling in your business's name, address, and phone number. And the more detailed your profile is, the more maintenance it will require.
If you don't have time to devote to this, it's understandable. We can help. With each of the websites we build, we also complete the Google Business Profile for the client. And we make sure that your website and profile are current and accurate.
Are you intrigued by the idea of using your Google Business Profile as a marketing tool? Set up a call with us, and we can discuss your business website and digital marketing needs.