You may be familiar with Google star ratings in the context of Google reviews, but did you know these rating indicators show up in other places too? Star ratings are a strong visual indicator of social proof, and they are visible in quite a few places on the search engine results page (SERP).
Your star rating helps your business earn trust, increase clicks, and improve Local SEO. Here's what you need to know about star ratings and where you can expect to see them in SERPs.
What Star Ratings Mean to Your Customers
Multiple studies have shown that star ratings are a powerful trust signal to customers. They visually communicate quality and customer experience almost instantly. When Google star ratings show up next to ads or search snippets, research shows that users spend less time considering if they want to click. Click-through rates are often significantly improved when star ratings are present.
And it's not just the presence of stars that matters, the number of stars is important. In fact, 54% of people wouldn't consider a business with an average rating below 4 stars. According to BrightLocal, consumers particularly pay attention to reviews for service-area businesses, tradespeople, care services, and healthcare.
Stars build credibility for your business and can increase your engagement with customers. For this reason, you should cultivate positive star ratings and find opportunities to showcase them.
Where Google Star Ratings Appear
Star ratings on Google are powered by your customer reviews. Google uses an algorithm and an average to determine how many stars are displayed. These ratings appear on a scale of 1 to 5 stars.
On any given SERP, you'll notice star ratings on local pack results, standard blue links, ads, third-party review sites, app store results, or rich search results.
Local Pack Results – Google Business Profile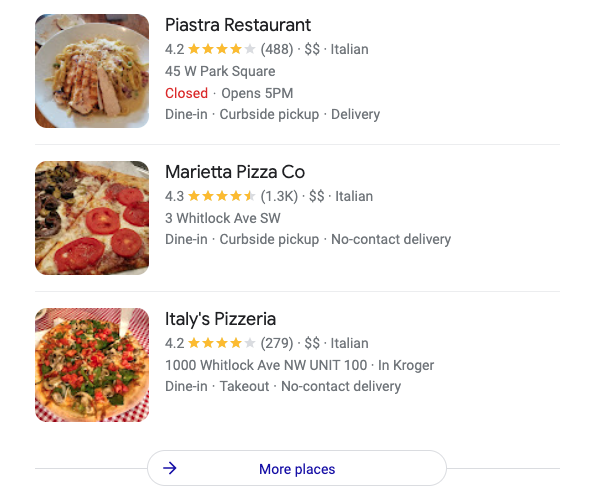 While star ratings do not influence your website's performance in organic search results, they do impact your Local SEO and how your business ranks in the local pack. The local pack is the section towards the top of search results that highlights Google Map listings.
Completeness of your Google Business Profile and reviews are the two most significant influencers of where you rank in the local pack. Specifically, your Google review quantity, velocity, and star rating level are the most important.
Organic Search – Blue Links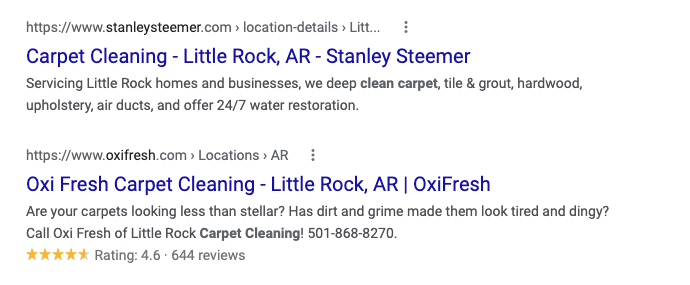 In summer 2021, Google introduced star ratings in organic search results. These ratings appear below the typical blue link to whatever webpage is being shown. Businesses that want review snippets displayed in organic search need to add schema markup to their site. This will display the star rating and the number of reviews.
Having stars appear next to your website in SERP can boost the credibility and trustworthiness of the page. It could also potentially lead to more click-throughs to your website.
Paid Search Ads – Seller Ratings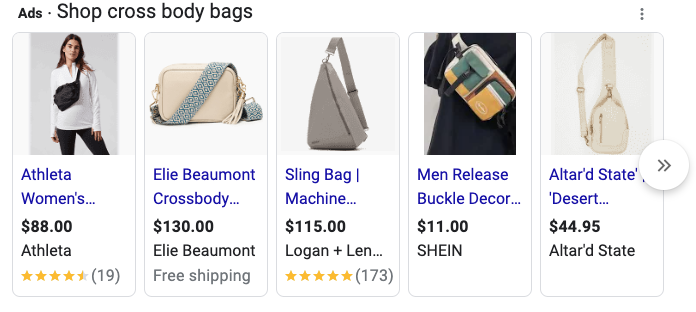 Google star ratings, or "seller ratings," on search ads can be based on Google reviews and third-party reviews. Any retailer that uploads a product feed to Google Merchant Center can potentially have a seller rating. Typically, businesses need to have at least 100 reviews in the last 12 months to receive a seller rating.
According to Google, showing seller ratings on your text ads can boost your ads' click-through rate by up to 10%.
Third-Party Review Sites

If you have reviews on third-party sites like Yelp or Angi, then a star rating may show up with those links in SERPs. A quick Google search of your business should reveal if your customers are reviewing you on other platforms. We recommend claiming any third-party listings so that you can monitor and respond to reviews as they come in.
If you find that some third-party sites are relevant to your industry, you can request that your customers leave reviews there similar to how you would ask for Google reviews. This could help you grow your positive reviews so that when that third-party review site shows up in search results the star rating is high enough to capture attention.
App Store Results

For businesses with an application as their core product, star ratings are very important. This is because they reflect their average reviews in the App Store or Google Play Store. In search results, users can see their overall rating, number of reviews, and other key information such as the app category and cost.
Rich Results (Recipes, Books, Etc.)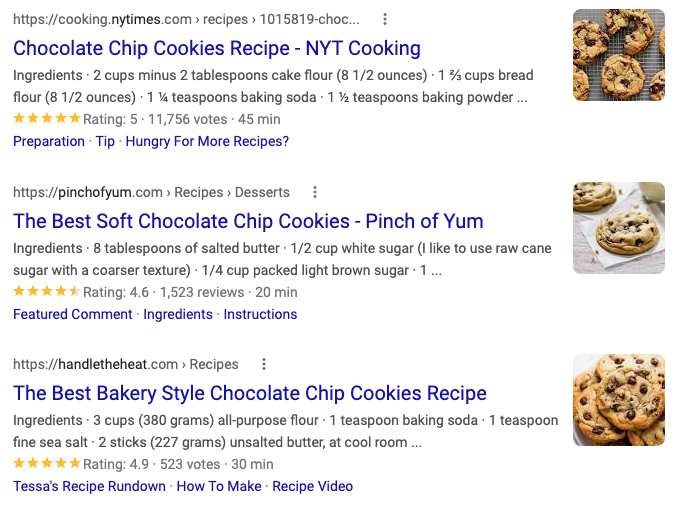 Rich results are enhanced search results with extra visual or interactive features. They stand out from traditional search snippets due to their formatting (such as a carousel) or their location (the sidebar, for example). Some rich results like recipes, movies, or book reviews may display star ratings along with other structured data.
Keep Tabs on Your Reviews
Google star ratings signal quality and trust to your potential customers, and they are becoming more and more visible in search results. If you want help with your review management such as improving your star rating, we can help. Chat with our team for more info.